Agenda for the Conservation meeting of 2011-06-20 (
Monday

) at 19:30 in the Stocks (

This agenda was modified on 2011-06-19. To add to, or comment on this agenda, email Jim on

.

This and previous agendas and minutes can be found at

conservation.ecclesfieldgroups.com)

a.

Welcome

to members, new members, and visitors.
b. To register

Apologies

.
c. Acceptance or amendments to the

Minutes

of the previous meeting.

A talk with Historians Mel and Joan Jones, and Tegwen Roberts of East Peak Innovation Partnership about the proposed

Interpretation Board

, and what members would like to appear on it.
Discussion of the planning application for an

Aldi

at Rollem with 990 m2 of sales space, including the proposal to mandate the preservation of the remains of the mill dam and associated buildings. See picture below. Also, see the debate in the Yorkshire Post, Telegraph, or more complete details and photographs in the archaeological report part 1 and archaeological report part 2.
Results from our

traffic survey

of 2011-05-25 (Our petition seems to have been reported by the Telegraph).
Volunteers for helping prepare for, erect, and disassemble our stand at Ecclesfield Gala on 2001-09-04.
x. Discussion on new

planning applications

(

See "Planning Applications" below

).
y. Any

other

business.
z. Date of the

next meeting

.
---
Emails received (E.g. on ).
---
Information watch

This year's "You Choose" event is on 6th July in Newton Memorial Hall, Cowley Lane, Chapeltown. Arrive before 18:30 if you want to vote – for example for the Bloom Group's application for wood to make planters for LadyCroft.

The next meeting of the Northern Community Assembly is scheduled for Wednesday the 28th of September at 6.30pm at Newton Hall, Cowley Lane, Chapeltown.
We are still waiting for the report to the Northern Community Assembly about our

traffic petition

as minuted. Meanwhile, there is a report about the temporary siting of Speed Indicator Devices(SIDs) on Yew Lane and Chapeltown Road.

.The Star reports that South Yorkshire Police may keep the

Ecclesfield inquiry desk

open, as one of their six remaining.

Mobile speed camera

s will be in operation this week and next, on the A6135 Chapeltown Road.
The

Bradbury planning application

is still described on the SCC's planning website as "Withdrawn", with no further opportunity to comment.
Until October/November, Veolia will collect a maximum of 6

green sacks

, when see them at the front of your property on their 4 weekly patrols. There is also a "Recycling Roadshow" at Morris ions on 2001-07-18. Alternatively, you could attend Veolia's master composter training.

---
Planning Applications
(

I think the pictures below some of these application details are roughly in the right position

)

---
Application
Reference
Date Received
DD/MM/YYYY

Date Validated


DD/MM/YYYY



--------------Address---------------

-----------Proposal----------
----Status-----


---
| | | | | | |
| --- | --- | --- | --- | --- | --- |
| 11/02109/FUL | 27/06/2011 | 27/06/2011 | Steadfast Tyre Centre Chapeltown Garage Co Ltd 2 And 6 Ecclesfield Road Chapeltown Sheffield S35 1TE | Front extension and raising of roof height of garage | Pending Consideration |
---
| | | | | | | |
| --- | --- | --- | --- | --- | --- | --- |
| 11/01930/RG3 | 10/06/2011 | 10/06/2011 | South Yorkshire Laboratory Station Road Ecclesfield Sheffield S35 9YR | Use of site as highways maintenance depot (Change of use application under Regulation 3 - 1992) | Pending Consideration | |
---
Google map showing planning application locations¬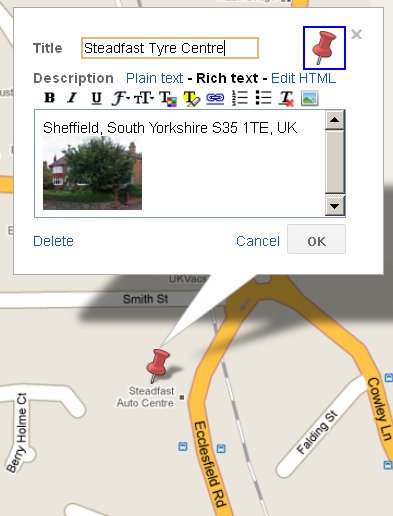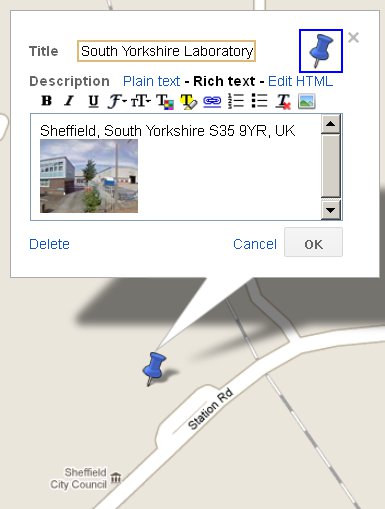 ---
(

All found using Ward = East Ecclesfield, Parish = Ecclesfield Parish Council, Validated from 16/06/2011 to 15/07/2011 )
We are monitoring the

Bradbury Planning application

, 11/00823/FUL, details of which can be found here
To see the documents, click on http://planning.sheffield.gov.uk/publicaccess/tdc/DcApplication/application_searchform.aspx, Search, enter the Application Reference, then "Click to view" arrow, then "Associated Documents > View associated documents".


---
To unsubscribe from Conservation Group emails, just email