Ecclesfield Conservation and Local History Group
---
| | |
| --- | --- |
| We normally meet on the fourth Tuesday of most months, however meetings are currently suspended. . | |
---
Our February 2020 meeting decided to sign the ePetition to place a permanent speed camera on Town End Road. If members or others want to give further support, they can sign it themselves at Speed Camera Petition until 31st March.
---
Our January 2020 meeting noted that the tenancy at the Black Bull was being advertised. Since the Black Bull is an important part of the Ecclesfield Conservation Area, and is tied up with much social capital, we decided to link to details of the Pub tenancy
---
--- CONSERVATION PAST ---

---
Government's Consultation on Trees & Woodland

Our January meeting decided to add a comment to the above Government consultation, supporting the proposal to make it mandatory for Local Authorities to consult before felling street trees, such as the magnificent Sycamore shown opposite which we used to have on Yew Lane at the top of Stocks Hill.

Click to see a copy of our comment

.
---
---
27 Sep 2018 19:30
.
Radioactivity and Fracking
.
Dr Ian Fairlie is giving a public meeting
in
St Mary's Church Hall,

High Green

S35 3HS

(on the corner of Mortomley and Pack Horse Lane, with car parking behind the church)
.
Meetings of the Conservation Group have expressed their opposition to the proposed processing of waste from fracking on Starnhill Close off Station Road.
See video time 20:40
for an interview with Dr. Fairlie
| | |
| --- | --- |
| New research into the men whose names appear on the Ecclesfield War Memorial in St. Mary's Church yard as having given their lives in the Great War, has yielded their regiment and something of their genealogy. The result, which is best viewed on wide screen can be seen here | |
---
Players Lounge Application for change of use

The planning application for

Players Lounge

on Yew Lane has been revived, and Sheffield City Council are accepting further objections, comments or support. We can discuss this in our next meeting. Meanwhile, if in view of the stabbing outside the club on 17th June 2018, or for any other reasons, anyone wants to make a new submission, or change their previous submission, then they can do so as follows:-

If not already registered, click

here

, then on the "Register" tab and enter your details, including a suitable password, and wait for the automatic registration email.

When registered, click the

link

, then the "Login" tab, and log in with your password. This will show the [Make a Public Comment] button, which needs to be clicked. Scroll down to "Commenter type:" and select "Neighbour". Decide whether to "Object", "Support" or Neutral/Other. You can also describe any special reasons for your comment in the text box. Clicking the [submit] button sends the comment off.
---
There is a

meeting

of "Frack Free Ecclesfield and Chapeltown" at 7:30pm on 14th Aug 2018 in Ecclesfield Library. Conservation members and others are welcome to attend.

Our March meeting re-affirmed our opposition to the processing of waste water from fracking on "Station Road" Ecclesfield, and submitted

this objection

to the Marsh Lane Enguiry.
---
Our objection to plans for a "drive-through restaurant" on The Common




Click to see

our objection

to McDonalds Restaurants Limited's plans for the old Police Training School on The Common. We hope that the total of 146 objections registered so far will be enough to give the Council the evidence and courage they need to turn the application down. Otherwise, Members and others with views may need to make their own comments, which they can do by emailing them to

planningdc@sheffield.gov.uk

(

including their postal address

), or by registering on the

Sheffield City Council's planning site



---
---
Our November meeting supported the proposed change in the route for HS2 away from Smithy Wood. We have therefore submitted

this response

to the Government's consultation on the

route.

We suggest that this gives Sheffield City Council the opportunity to save this ancient woodland by turning down the planning application for a motorway service station on Smithy Wood. Our previous

submission

disagreed with the original route. Some of our reasons can be seen in this

Woodland Trust video

, pointing out the damage the old HS2 route would have done to ancient woodlands.
---
---
| | |
| --- | --- |
| Ecclesfield Christmas Tree | |
---
Flowing Through Time, Sheffield's River Don - 24th November, 10.30am

A talk by Mike Spick starting at 10:30 in Chapeltown Library. Following the course of the Don, this presentation highlights the sights and places that have survived and those which are now just memories.
---
| | |
| --- | --- |
| The path along Hartley Brook is lovely at the moment, with the only exception being one spot of fly tipping. We have therefore reported this to Sheffield City Council ( on 2017-05-25). | |
---
Trees and Woodlands Strategy

The Conservation Group has just made a

submission

to Sheffield City Council's new

Consultation on Tree and Woodland Strategy

. The consultation is meant to guide the management of the Council's non-highway trees from 2016 - 3030, so members and others may wish to make their own comments, e.g. at the above link, or perhaps discuss it on

Facebook

.
---
We look forward to receiving lots of survey forms back, with answers to the questions given to us by

Ecclesfield in Bloom

,

Ecclesfield Library

,

Revitalising Ecclesfield Park & Pavilion Group

, and

Ecclesfield Street Dusters

. The envelope is "Reply Paid", so returning it is just a matter of dropping it into a post box. Otherwise, you are welcome to bring it into Ecclesfield Library. (

Just push the envelope under the front door if the library is closed.

)

We look forward to passing the answers on to the respective groups, and are especially looking forward to see if anybody completes our questions about Ecclesfield's history and heritage.
---
Our objection to planned change of use of the old Oakwell carpet shop to a "Micro-pub"

Following our

objection to the planning application for change of use to a public house for 99 Cross Hill

, we are pleased to note that a total of 56 objections have now been lodged. This demonstration of public feeling against the application is so great that we ask and expect that the application will now go to a public meeting of the Planning Committee, rather than being delegated to officers.

Since our objection contained only a summary of the consensus points discussed in our July meeting, and in any case, merely counts as one objection, members and others may want to make their own comments to the Council. They can do this, either by registering on the Council's web site, or by emailing

planningdc@sheffield.gov.uk

giving their postal address.
---
We are grateful for the donation of a batch of early "Eadon Lockwood & Riddle" bills of sale and other documents. We are scanning them for submission to the

Ecclesfield Civil Parish Archives

. If anybody wants to help with this work or has other documents or photographs they want to submit, please email us on

or come to one of our meetings
---
Visit to Sheffield Archives

The Parish Council Archiving Project has managed to arrange a special viewing of historical documents from the Ecclesfield area, including some of the recently-available material from the Gatty Family. The viewing is in Sheffield from 1.30 to 3.30 on a Monday. If you are interested, Email Christine Handley at the Parish Council for more details.
---
| | |
| --- | --- |
| These historical reminiscence sessions are extremely interesting, great fun, and as we learn more, each one is better than the one before. Just come to Ecclesfield Library at 15:00 on the last Wednesday of the Month, or see more details on the library's Events Page. | |
---
Our comment on a planning application for a tree in the Conservation Area

The Conservation Group tries to look at all the planning applications made for the Conservation Area and its surroundings. We don't comment on very many of them, but our last meeting was so impressed by the amount of thought and consideration being given to the pruning of a tree on the High Street, that we commented to the Council as follows ...

The "Ecclesfield Conservation and Local History Group" wishes to express its support and thanks to everyone who has contributed, and is contributing, their expertise to the decisions currently being made on how best to maintain this magnificent tree. This includes the property owner, in recognising the importance of the tree to the Ecclesfield Conservation Area, the tree surgeon who gave the initial advice, and the planning officer who has agreed to meet the owner and look at the tree. We encourage everybody who is responsible for a tree in the Conservation Area, with a trunk diameter of over 75mm to similarly

apply for planning permission

, and point them to this case to illustrate the advice and support available.

If anybody has any further comments, they are welcome to email

or register and enter their comment directly into

Sheffield City Council's planning site

.
---
| | |
| --- | --- |
| We are sharing a stand at the 2016 Ecclesfield Gala with the Parish Council Archiving Project. If you would like to help us man the stand and perhaps talk to people about the History of Ecclesfield, then please email us on , or come to one of our meetings. | |
---
Volunteer Fair - 19th September 1pm

We are looking forward to attending the volunteer Fair in

Ecclesfield Library

.

Three controversial planning applications in or around Ecclesfield are about to be decided (see below). If anybody is interested in any of these, just pop into the library between 1 and 4pm, and we can show them how to object or comment on the application.
---
13 Dec 2015 18:00

Ecclesfield Christmas Tree

.

This year's tree is the result of a fantastic, collaborative effort by each of the following ...
---
---
* If anybody has any pre 1918 building plans, they might want to offer them to
Sheffield city Archives
. They have just been awarded a grant to preserve them.
---
We note that Sheffield City Council is to consider a planning application to replace one of the prefabs on Mill Street. As expressed in our May meeting, members value the "concrete" link with the past, and have made a

suggestion to the Council

that the building be photographed before demolition.
---
As can be seen on

Sheffield City Council's planning website

, the planning permission for the retention of the facia name sign outside Pinks Estate Agent has been refused.

Since both

our objection

, and the Council's decision notice, refer to the fact that signage is within the Ecclesfield Conservation Area, we are looking forward to seeing a solution which is compatible with the rules for Conservation Areas, as well as the laws on shop signage in general.
---
Tree felling on Network Rail land

Members and others, concerned about the land-clearance being done along the side of the railway line, are welcome to come along to our next meeting. We need people's ideas, comments, and opinions, in order to try to come up with a solution and perhaps decide on a course of action.

Click here to see what the result of the clearance looks like

The work was first reported to us, when the stretch of Woolley Wood immediately adjacent to the railway line, and running parallel to the road between Ecclesfield and Meadowhall was being cleared. These reports said that the self-sown ash, birch and sycamore, which had grown up over the past 40 years were being cleared, and some larger trees were being felled. We therefore suspect that the same thing will be done along the full length of the line through Chapeltown and beyond. Among the issues this raises, are ...
---
| | |
| --- | --- |
| Our general meetings are scheduled for 28/July, none/August, 22/September, 27/October, 24/November, none/December | |
---
District Archiving Project

Ecclesfield Parish Council have now appointed a project co-ordinator for the district archiving project. If anybody wants to attend the series of courses she is running on the use of Townsweb Archiving's digital archive creation system, please email us on

.

The first set of courses runs until 11th December.
---
---
--- CONSERVATION PRESENT ---

---
Tree felling in Sheffield

The Rustlings Road trees have been given a reprieve, says a July article in

The Star

. Following the destruction of the mature sycamore tree on Yew Lane at the top of Stocks Hill, Amey have told us that although they are not going to plant a new tree in the old stone planter, they are proposing to plant shrubs in the planter, and then maintain them. Amey are also proposing to plant a Field Maple on the verge opposite, and are looking at the possibility of planting other trees further up Yew Lane. We are also pleased to be able to report some very positive responses to our enquiries about Amey's procedures for tree maintenance. As can be seen from the

map of proposed works

, the Ecclesfield Conservation Area is now shown. "Conservation Area" status is therefore much clearer, and we therefore hope and believe that it will be taken into account earlier in Amey's future decision making. Furthermore, Amey, are offering to circulate us with details of any further work that might be proposed on other "street trees". If anybody wants to hear about these, or is concerned about trees in their area, they are welcome to come to our next meeting or email

. To see a larger Google StreetView picture showing what has been lost, just click on the thumbnail on the right.
---
New website for Ecclesfield Park

We congratulate the Revitalising Ecclesfield Park and Pavilion Group on their new website, and are pleased to promote it here. To find out about what is going on in the Park, just click on the link for

Ecclesfield Park
---
Preservation of Ecclesfield's History

We thank Ecclesfield Parish Council for the action they are taking to preserve the history of the area. In particular, we thank them for setting up the "Ecclesfield District Archive Group", and providing a vital on-line backup service for all the Archiving groups in the District. Because of this, we can assure our donors that anything placed in our

Ecclesfield Village Archive

will be preserved for future generations. We are also glad to support the Ecclesfield District Archive's bid for Heritage Lottery funding. If successful, this should enable us to improve our software; and for other groups in the district to put their collections on-line. If anybody wants to lend any historical photographs for scanning, or contribute other material, just email us on

, or just come to a meeting.
---
Ecclesfield boundary Planters

If anybody knows of a good roadside site for a "Welcome" planter on the outskirts of Ecclesfield please email

.

We have already obtained permission, and are working with others to put a planter on the verge at the junction of Church Street and Chapeltown Road. However, we are hoping to put two planters in place and are therefore looking for a second site on one of the other roads into the village.
---
Pictures of Green's Foundary (later Moorwood Vulcan)

Members are interested in any pictures anybody might have of the old Green's foundry (later Moorwood Vulcan). If anybody has any photographs they are willing to share with us, please email

.
---
If anybody has any old pictures of the old Rollem Patent Products, (Now Aldi), please email

.
---
We have withdrawn our Registration of Interest in Ecclesfield Library in favour of the

Friends of Ecclesfield Library

. We wish them every success in keeping Ecclesfield Library open. We understand that anyone bringing any historic photographs of Ecclesfield Village to the library between 9:30 and 12:30 on 8th February for scanning into the

Ecclesfield Village Archive

will receive a free copy.
---
---
---
7th May (Wednesday) at 7pm at Newton Hall, Chapeltown

Ecclesfield Parish Council are inviting people to give their views on the Proposed service station on Smithy Wood, before they respond to Sheffield City Council planning Department.

Several members of the Ecclesfield Conservation Group are hoping to attend. Click on the poster opposite for details.

Details of the proposals can be seen on

"Sheffield City Council's planning website

(

to see the proposal, click the "Documents" tab. Alternatively, to see the objections lodged so far, click the "Comments" tab, and then "Public Comments". Anybody can make a comment, by clicking "Register". After entering your details and receiving the confirmation email, go back to the planning page, and click "Login".)

There is also an

"e-petition

against placing a service station on Smithy Wood.
---
2nd March 2014 (Sunday) - Ancient Woodland
An illustrated talk on Yorkshire's ancient woodlands by Professor Ian Rotherham at the Potteric Carr Nature Reserve.
Click poster
or ring Doncaster 01302 570077 to book. £3.50 per person.
---
HISTORIC FILMS OF ECCLESFIELD

Several historic films of the area have been made available on the

Yorkshire Film Archive

.

They include a fascinating 1942/3 film called "ECCLESFIELD HOLIDAY WEEK" and taken in Ecclesfield Park.
---
Felled Tree on Nether Lane

Sheffield City Council have explained that the large oak tree on Nether Lane, adjacent to the Hydra development had to be felled to improve visibility. We thank the planning officer for the very full reply we received, and for pointing out that "replacement trees on the site frontage... . [were] ... required given the need to remove the Oak." In this case the applicant for planning permission for the site had marked the tree very clearly on their plans, and the Council knew of its value. However, this might not always be the case. We therefore encourage anybody who is concerned about an asset on a site subject to a pending planning application, to mention it in a comment on

publicaccess.sheffield.gov.uk/online-applications

. Alternatively, if they have a photograph, they can email it to

with the planning application number. They could also alert us by emailing

, or by coming along to one of our meetings.
---
| | |
| --- | --- |
| | We thank Mr and Mrs Santhouse for allowing us to publish some of their historic photographs. These include some "Santhouse" and "Bell" family photographs going back to 1927, as well as photographs of the "Ecclesfield Ebenezer Methodist Church", "Secondary Modern School" music festival, a Sunday school parade, and a most intriguing archery group. Click the photograph on the left to see the historic SANTHOUSE photographs" |
---
---
---
Saturday 21st September - "Professor Mel Jones at the Yorkshire Dialect Society"
Professor Mel Jones is talking to
The Yorkshire Dialect Society
about the stories of Ecclesfield Born Juliana Ewing (1841 - 1885) at 14:00 in St. Andrew's Penistone. All welcome - entrance £2 (including refreshments).
---
Ecclesfield Community Garden Open Day

We had a great time at the Community Garden Open day last Sunday (14th July). The "Community Gardeners" were there, and we could see lots of evidence of their work, but on that day, they seemed to relax, enjoy the lovely sunny summer afternoon, and tend to their visitors. Perhaps that was just as well because the count showed that 72 adults and 26 children attended.

Unlike the other stands which concentrated on new, fresh produce, ours concentrated on the past. We displayed our industrial heritage leaflets, as well as a stand showing pictures from the Ecclesfield Village Archive. These showed children enjoying two vanished, but very tall, slides and a long-gone paddling pool in Ecclesfield Park. All the photographs of the park were taken in the same bright sunshine that we were experiencing, and visitors (and us) had no difficulty in imagining ourselves being back there.
---
Sheffield Library Local Studies Department, contributed to "How the North was built". You can see the program on
https://t.co/Lg7sUhoJ36
---
Old Photographs and other documents about Ecclesfield wanted

We are are hoping to borrow photographs and other documents which show what Ecclesfield was like in the past. If you have anything that you are prepared to let us scan, preserve, and perhaps make available on the Internet as part of the Ecclesfield Archive, please email .
---
| | | |
| --- | --- | --- |
| | We are hoping to move the Ecclesfield Village Archive to Wordpress. To do this, we need a Wordpress theme, plugin, widget or other software which will allow visitors to select and "zoom in to" our high resolution photographs. If anybody knows of one, please email . | |
---
National Planning Policy Framework
We note that the new National Planning Policy Framework, emphasises sustainable development and bio-diversity, and says that planning decisions should "conserve heritage assets".
---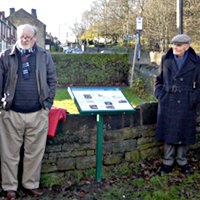 Heritage Boards 2 and 3 unveiled on 1st December 2012
These cover the history of the area from Whitely to Smithy Wood, and from Nether Lane to Butterthwaite Dam. Click on the video on the left to see Professor Mel Jones unveil the boards describing these areas; or on the thumbnail on the right to see our official photographs of the event. See also, our thanks and acknowledgements for the people and organisations that made this possible.

---
Historical Photographs of Ecclesfield

Click on the thumbnail on the right to see more historical pictures of Ecclesfield. These scanned photographs are part of an archive of the history of the Village which we are starting to put together. Please therefore email any information or enquiries you might have, whether about significant current events or historical documents to

.

Note that the photographs and the historical documents below will be disconnected on 2013-06-25, and may take time to get working again. However, they will then be on a high speed Plusnet FTTC connection.
---




The scanning of Bernard Ridge's day book and ledger is complete. Click on the thumbnail on the left to see something of gimlet, auger and brace bit manufacture in Ecclesfield from 1899. We are still hoping to make it possible for people to read the text, and add it to our web site, so that people searching for the names of the people or companies mentioned in the Ledgers can find the relevant pages. An example of

"searchable text can be seen here

. If anybody has any suggestions on ways by which something like this might be produced, please email them to

You can also click on the thumbnail on the right to see the Diary of Mr John Lee, documenting his work in industrial Thorpe Hesley from 1879.



---
PAST CONSERVATION EVENTS ( Also click 2013 )
---
EPIP, who funded our Heritage Board projects, are offering funding for 2013 to local groups with performance traditions, including dance, music and song. Click here to see the press release EPIP sent us.
---
The Ecclesfield Conservation Group are pleased to promote Ecclesfield Gala's new web site, and wish them well in their search for volunteers to help run next year's event.
---
---
---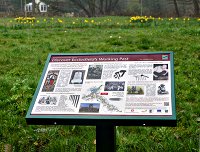 Ecclesfield's Working Past - Part 1 The Village Core
Click on the video on the left or for a slide show click on the thumbnail on the right, to see a slide show of the unveiling of the Industrial Heritage Board in Ladycroft Meadow on St. Mary's Lane. (

If your computer is as old as mine, then it is probably better to click on any picture you want to display, and then on the back button when finished. However, a modern computer should automatically pan and zoom smoothly

).
You can also click on the following link to see the first leaflet, which deals with Ecclesfield's working past - the village core (Scroll down for side 2), or the next link to see our thanks and acknowledgements.
---
Industrial History in the making?

Walking along Green Lane, we could not help seeing a huge yellow bridge-like structure being constructed on the Butterthwaite Lane Business Park. Since it looks like nothing we have ever seen before, we asked the owners, and was amazed to hear that Engineering is not only still alive in Ecclesfield, but that it is still making history. Something which also deserves publicity perhaps.

---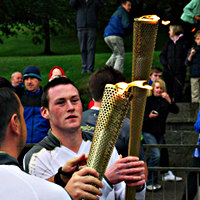 Ecclesfield Olympic Torch Reception - 15:00, Monday 25th June
---
---
Ecclesfield seems to be loosing the stone copings from the tops of its many traditionally built walls.We have written a letter to Sheffield City Council. However, if while we are waiting for a reply, anybody wants to see photographs of the problem, comment or suggest a solution, then they can do so at Ecclesfield Conservation Wikia.
---
Traffic


In response to our petition and our two surveys of the traffic on Church Street, the Northern Community Assembly have prepared an extremely large and thorough report. (Click the following link to see details of both our

traffic surveys

). The report acknowledges the difficulty which pedestrians have in crossing Church Street due to the amount of traffic, but says that it is difficult to find a good site for a crossing. The report, and our request remains on file, but we understand that the project is not recommended for inclusion in this years limited budget.



---
Bradbury's planning approval

Sheffield City Council have emailed us their reasons for their having conditionally approved the plans for a Garage/Workshop on the "Bradbury's Haulage site between Yew Lane and Town End Roads (as modified in January 2012). This follows our letter of objection, the objections raised by nearby residents, and the objections of Councillors.

The

Report of the

Area Board is available at 11/03358/FUL.

We note the conditions made, including the requirement for a landscaping belt along the southern edge of the site, and that use of the new building is restricted to 08:30 - 18:00 Mon-Fri, and 09:00 to 16:00 on Saturday, with no working on Sundays or Bank Holidays. We also note the report's comment that approval of permission for the site is "

Despite its clear incompatibility with its location".



Although controlled by its visitors rather than by the Ecclesfield Conservation Group, clicking on the map opposite should bring up a Wiki entry showing the (already half-completed) building.
---
| | |
| --- | --- |
| We note that the planning application for a mobile phone mast in the centre of the Grenoside Conservation Area has been withdrawn. Click on the picture on the right to see the application. | |
---
---
| | |
| --- | --- |
| | Click here to see a "crime map" for Ecclesfield, or here for South Yorkshire Police's Facebook page, or here to stay up to date with short timely messages from Sargent Hammond. |
---
We thank Ecclesfield Parish Council for their grant towards the cost of the Christmas tree we are erecting in the grounds of St. Mary's Church. As a result, we are looking for a large conifer. If anybody knows of one that might be available, please email us at .
We are looking forward to decorating our (joint) tree for the Christmas Tree Festival. It can be seen in St. Mary's Church from 10th, 11th, 12th December (with refreshments and stalls - admission �1).

--- NEWS for Nov 2010 ---
Our proposed "

Heritage Board

"

just missed getting the necessary number of votes

at the "You Choose Event" event

at Newton Hall, Chapeltown

on 16th November

. We are open to ideas for other sources of funding, so if anybody has any ideas, please email .
We are sending a special Christmas card to South Yorkshire Police congratulating PC Peter Booth for his recent awards and thanking him for his continuing good work as community policeman.

--- NEWS FOR Oct 2010 ---

--- NEWS FOR AUG-SEPT 2010 ---

We thank everybody who called in at our stand at the Ecclesfield Gala on Sunday 5th September.
We passed a resolution supporting the efforts being made by Sheffield Wildlife Trust to purchase Greno Wood.

--- NEWS FOR JULY 2010 ---

--- NEWS FOR JUNE 2010 ---
We were pleased to receive some

historic

pictures, which we have displayed here.

We thank our local Rotary Group for the good reception they gave our Chairman, and for the encouraging things they said about the possible renovation of the village stocks.
Lots of work has been done on

LadyCroft Meadow

. Materials were paid for by the in-bloom group, and we thank the two Payback teams for the work that they are putting in.
We welcome the new "Village Notice" board at the Morrisons entrance to Ecclesfield Park, and on Ladycroft Meadow facing St. Mary's Lane.

We were pleased to hear of plans to put a

speed indicator

on The Wheel.

We note the concerns about the fuel to be burnt at the controversial

biofuel generation plant

on Loicher Lane, and are monitoring progress (see below).
We thank the St. Mary's Lane Trust for their donation of �200

--- EARLIER NEWS ---

You can Email us on . Just say if you want to be emailed copies of agendas or minutes, or if you want us to stop emailing.

--- PLANNING APPLICATIONS WE ARE MONITORING---

Aldi on the old Rollem Fabrications site.
See
application 11/01426/FUL�
to see our letter commenting on the application.
--- PLANNING APPLICATIONS DECIDED---

The application for a Bio-fuel,
Power station on Loicher Lan
e has been withdrawn. see
application 09/02979/FUL�
.
We note application
10/01338/FUL "Old Methodist Chapel" has now been granted, but for
6 apartments (plus a resident caretaker flat)
, not the original 8. Further changes include an
increases to the area of obscure glazing,
which the Conservation Group wrote to comment upon
.

(In case of difficulty viewing the planning documents above, click
instructions for installing Adobe Reader
)
---
---OTHER CONSERVATION DOCUMENTS---
Conservation Issues
,
Letter from SCC about buildings in the Conservation Area
Aims of the Ecclesfield Conservation Group
,
Constitution of the Ecclesfield Conservation Group
Ecclesfield Conservation Group procedures
Public liability certificate
Preserving what is best about the Sheffield Village of Ecclesfield
--- USEFUL LINKS---
We support the new
St. Marys Lane air pollution sensor
.
Historic Buildings For Sale or Rent
. .
Pictures of Ecclesfield
,
Walks around Ecclesfield
, other Ecclesfield Groups...
www.ecclesfieldgroups.com
2007.07.06 Meeting with SCC Conservation Team.html